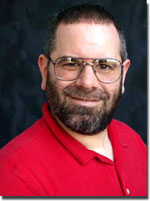 I love to help people master their computers. Since I started my business in 1998 I have had the pleasure of working with a variety of small businesses and individuals, helping make their computer experience more enjoyable and productive.
How did I get to be a "guru"? My experience and skills met up with a market that needs me!
I have extensive experience using many kinds of software, from word processors and spreadsheets to databases, help systems, and other technical programs.

I am fascinated with the details and inner workings of the computer. As a teacher once observed, I don't look at the computer as a tool to get the job done, I view it as an instrument that I want to play well!

I have compassion for beginners, and what it feels like to be confused and frustrated.

I can work with people at all levels, from office assistants to consultants to executives, and I can explain technical concepts in everyday terms.
My background includes a degree in Mathematics from MIT and over 20 years experience as a Software Engineer, designing and creating software for use by newspapers, schools, security companies, and other software developers.
Martin Kadansky is an extremely valuable resource who has provided high quality service to my one-person consultancy. As someone who is not comfortable with computers, I have been able to focus on what I do well and call on Martin for computer issues. Martin is an extremely bright, competent person who has bailed me out of numerous challenging computer problems. He has always been available over the phone with quick and reliable remedies. I recommend Martin to any small business owner.

Mark Campbell
Executive Coach
Newton, MA

I am an active member in the following organizations:
- Society of Professional Consultants

- Watertown-Belmont Chamber of Commerce
Contact me today for your FREE initial consultation!
Martin Kadansky - More Than Just a Nerd!